Are you looking for a new rubber strap for Rolex® Submariner without Date? Our hight quality vulcanized swiss rubber watch band will perfectly match your Rolex® Submariner without Date and give a fresh start to this great watch. Our obsession is to make the world most comfortable watch band for you and your Rolex® Submariner without Date (6 digits). As you certainly are, we are a group of watch lovers and we are very proud to make great rubber band for watches likes the Rolex® Submariner without Date.
Watchband features for Rolex® Submariner without Date (6 digits)
Fit the Rolex® Submariner 124060 in 41mm

Sizes: Classic for 5,71" to 7,48" (145mm to 190mm) wrists & Large for 6,57" to 8,26" (166mm to 210mm) wrists

FKM vulcanized rubber anti-UV, anti-dust and anti-allergic

High tear strength and flexibility

Plastic insert embedded in rubber for a perfect connection with the case of your watch

316L stainless steel tang buckle with screwed axis and ZEALANDE® laser engraving inside

Carrying bag to store the original bracelet

Delivered in a cardboard box type gift box

Assembly of our bracelet with your original Rolex® spring bars (pins)

Lifetime guarantee (personal card)

Personalize your Rolex® Submariner without Date 6 digits with a ZEALANDE® rubber strap
ZEALANDE has chosen for you the excellence by selecting the best of elastomers, the vulcanized FKM rubber. This rubber is not like the others, it has particular properties which make it a high quality material.
It is resistant to various solvents, to heat or cold, to UV and has a strong resilience to tears and deformations.
It will be able to accompany you in your daily life, whether it is at the office or at the beach or while doing a sporting activity.


When we designed our Straps, we took care to study the case of each watch with precision to ensure a perfect fit between the strap and the watch.

In addition, in order to provide a strong connection to the watch case, we have overmolded an ABS insert through which the pump passes and which ensures an extremely strong link between these 3 elements.
The curved interior design has been studied to let your wrist breathe as much as possible and thus limit excess humidity.
By choosing to wear a ZEALANDE Straps, you will discover for the first time the incredible comfort of a real rubber strap.
Our straps are known to be the most comfortable to wear because of their softness and texture.
By replacing your original metal strap with our rubber strap, you will considerably lighten the weight of your watch and feel like you have a new watch on your wrist.

Small feature, the second loop of the strap is equipped with a small pico that can block the strap in the loop to avoid a feeling of discomfort.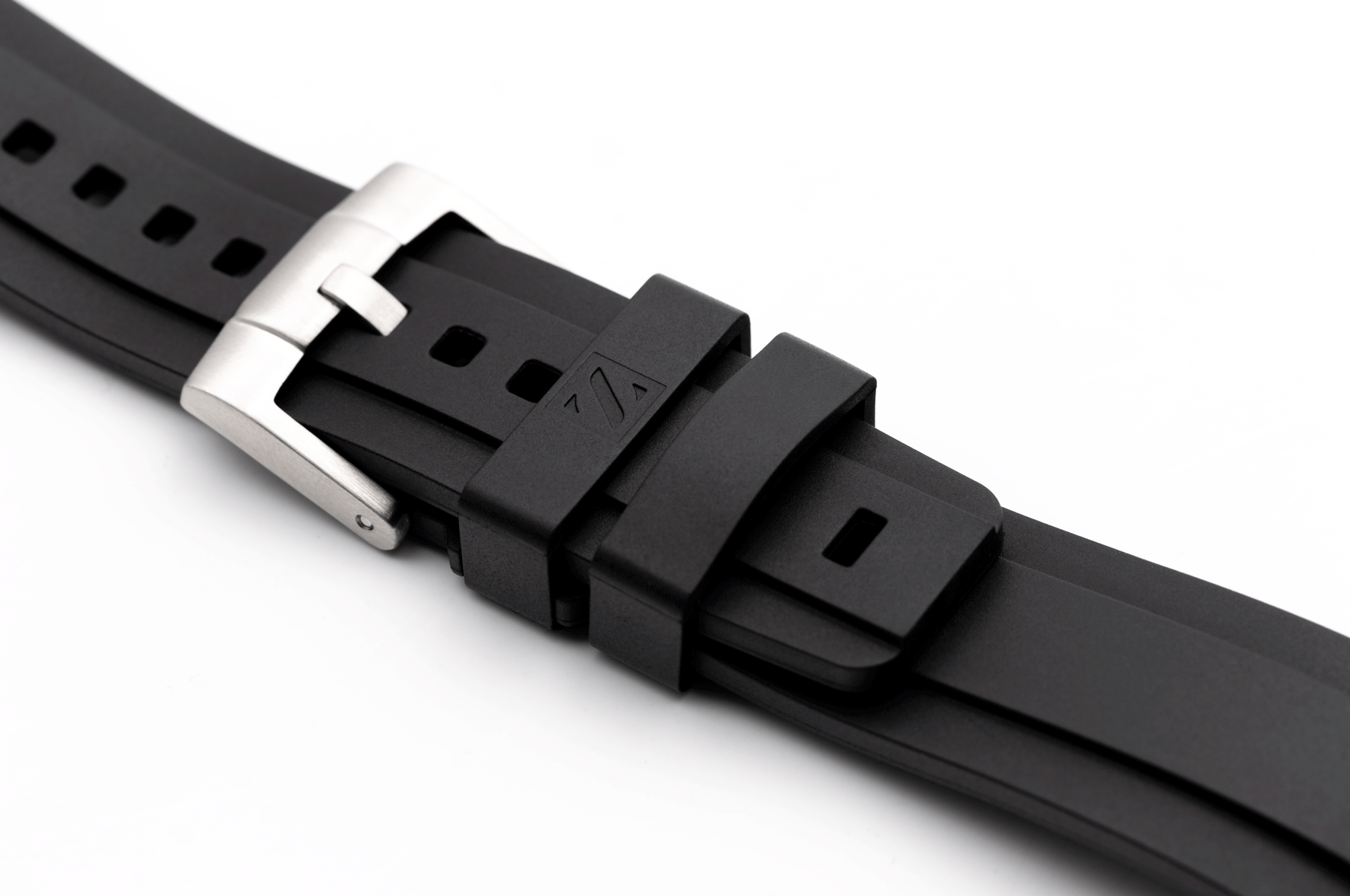 Our sleek, modern design pin buckle blends seamlessly with the lines of our rubber strap line.
Made of stainless steel with high-precision machinery, it attaches to the rubber strap with a screwed pin for maximum security.
And if a pin buckle doesn't work for you, you can also change it for a ZEALANDE folding buckle, also available in 4 colors.
To take excellence even further, we offer you a choice of 4 different colors for our buckles, choose yours from polished, brushed, gold or black.
The change of our strap is done in a simple and instinctive way, to help you in this stage we place at your disposal a broad range of tools. They will assist you in each step of the replacement of your strap.
You can use one of our large microfiber cloths to create a safe area to place your watch. Then with one of our pliers, you remove the pumps from your metal strap to detach from your watch case. And to finish the installation, you use our spring bar tool to perfectly fit your new rubber strap to your watch case.
However, if you don't feel up to doing the replacement yourself, you can always have it done by your watchmaker or one of our dealers.


ZEALANDE straps are available in multiple colors, each carefully selected to ensure a match with most watch models.
Some of the colors come from our passion for the automobile and some of the major brands of ready-to-wear and luxury goods.
Take advantage of our wide range to give your watch a new and more sporty look to match any of your outfits.